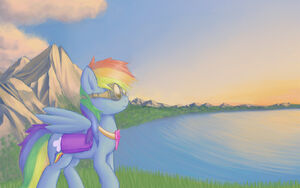 The world of Austraeoh is filled with memorable characters. Some try to help Rainbow Dash on her journey east, while others do what they can to stop her.
This page should contain all named characters, and possibly more significant unnamed ones. It is sorted by location, from west to east.
Some characters have different names in some early chapters due to the author's mistake, those are marked with an asterisk.
Gold Petals aka Gold Plate (*Sun Plate, *Iron Plate)
Ironhoof (*Stonehoof)
Red Turnip Jr. (*Turnip Red)
Rockspot aka "Spotty"
Bellstrafe -- young stallion who died on the trip to the quarry a year ago
Minotaurs
Edit
Pastel Pastures, fashion designer (mentioned)
Governor Mintelle
Duke Zaap Nator
Flower Gears's brother
Chancellor Nightsteam (mentioned only, ch. 120)
General Darkstine (historical)
Desert outpost
Edit
The Sanctuary
Edit
Earth ponies
Edit
elders
messenger who reached and died at the edge of Darkstine ten years ago
Axan, Queen of Flames, the Matriarch
the dragon speaker
Wessamare
Beltenmare
Zaidmare
Bellesmith aka Belle
Pilate

Pilate has a late brother named Kramer (Odrsjot, ch 184)

Grinder (his beloved is mentioned, but not named)
Blue Shelf Operations
Edit
Green Slope
Edit
Blue Nova
Edit
Xonan foals
Edit
Hara Gunn Fuutle
Vaanz Reen Guster
Tressa Rejj Fleen
Oorono Tan Slyte
Niija
Jaatso Mell Siezeen
Think tank
Edit
Neighbourhood of Ledomare
Edit
Queen Searo, or Searomare (historical founder)
Xonan warfront
Edit
Burrowhoof, first King of Xona
Nagu'n (sometimes Negu'n), Xonan deity
Rutledge - one of Collins's parents, mentioned by Hap
Golden Happenstance aka Hap
Kera's dead foster parents: Radiant Moon (Hap's sister) and Benevolent Blue
Mentioned only:
Kera's aunt Frost and cousin Gleam
Miss Crystal, Mister Jayce
Sapphire Summers (a cook)
the Greenspires, a family with twins
Lake Song, Gulien (foals)
Carrot Pace, Saddle Skies, Veraten
The Shattered Continent
Edit
Boxer the elder
The Boreal family
Goblin Lands
Edit